DR. SALİH KENAN ŞAHİN

Chairman of the Board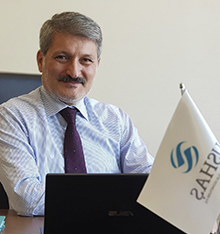 Born in Erzurum in 1968, Salih Kenan Şahin, M.D. Consultant, graduated from Atatürk University Faculty of Medicine in 1990. He completed his residency in medicine in Dr. Lütfi Kırdar Kartal Training and Research Hospital, Infectious Diseases Clinic. He has MBA degree from Gebze Institute of Technology.
He worked as manager and chief doctor in private health institutions. Between 2005 – 2009, he worked as the director of Social Security Institution Istanbul Regional Directorate of Health Affairs and contributed to the establishment of Universal Health Insurance.
He was elected Mayor of Pendik for two terms in 2009 and 2014 local elections. Dr. Şahin is married, with three children.